ABOUT US
OVER
30 YEARS

OF HOME INSPECTIONS
We've been in business since 1989 and have performed over 10,000 Home Inspections and more than 2,200 Infrared scans.
We Dedicate 100% of our time and energy to delivering First-Class service to YOU, our Client. Our philosophy about real estate is simple: We put ourselves in your shoes, treat you like family, and treat your money like it was our own money.
The greatest compliment I can receive is a referral from you to a friend or family member.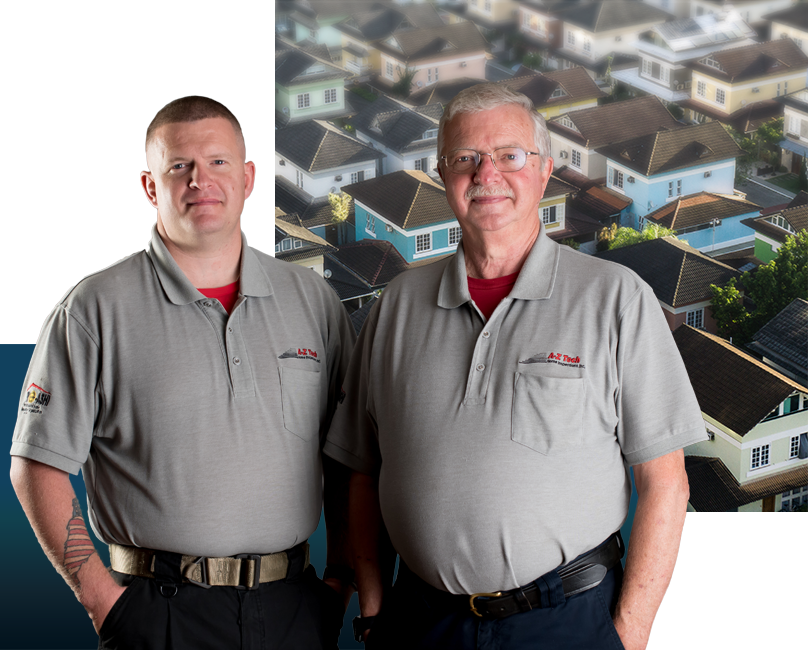 Trust A-Z Tech
WE OFFER A
200% MONEY BACK

GUARANTEE

We guarantee our competent and professional home inspection
or your money back!
WE UNDERSTAND THIS IS AN IMPORTANT STEP IN YOUR LIFE.
This guarantee is just one more way to demonstrate our desire and commitment to meet and exceed your expectations. Also, we want to ensure you have an enjoyable real estate experience.
We are confident in the quality of our home inspections and feel strongly that you are also going to feel confident and satisfied with our service, inspection and inspection report. However, if you are not, we will give you a full refund and pay for a PRO-ASHI certified inspector of your choice!
Let us know within 3 days of inspection and we will:
Issue a refund of the full price for the inspection service.
Provide a check to pay for the re-inspection up to the cost of the original inspection.
Why Choose A-Z Tech?
READ WHAT
SATISFIED CUSTOMERS

HAVE TO SAY
I just wanted to start off with a simple and heartfelt thank you. As you know, the home buying process is extremely stressful. From the search, to the funding, to the negotiations, and finally closing - it is very easy to become overwhelmed. Being a first time home buyer, which my wife and I are, makes these tasks even more stressful. However, one item I can look back on as a simple and calming process would be working with Bruce and your company.

He made me feel at ease through the phenomenal customer service (calling ahead of time to see what concerned me most, calling me right after the inspection to review his findings, and sending a report to me only a few hours after completing the inspection). Without a doubt, I will recommend this company and Bruce's services to anyone in the process of buying a house.

It was a real pleasure to meet you and watch you work on Monday morning. I got a real education! I will highly recommend you to anyone who could use your services. I really appreciated getting the electronic home and pest inspection reports so quickly.

Thanks for all the assistance in inspecting and informing me about the new home I am purchasing. Your information and services have truly been helpful and insightful. It was also very enjoyable to work w/ you and your son; it's nice to have the tension alleviated with people like you and your son who have a wonderful personality and sense of humor. I hope that any one purchasing a new home that uses your company realizes that they are getting more for their money than with other home inspectors.

Thank you for a recent home inspection you conducted for me. It was very professional and thorough. You did an excellent job in explaining various aspects of the inspection. Because of my interaction with your firm, you can be assured I will be recommending your company to anyone I know needing a home inspection.

You made an extra effort to make sure that this property was able to close on time. You not only did an excellent job performing the termite inspection but the day of the closing, You personally drove the inspection report to the closing company.

Thank you for taking the time on the phone with me, even with my construction background you were very informative. Thanks again.
Let's Get Started
ONE CALL
DOES IT ALL
We guarantee our competent and professional home inspection or your money back!