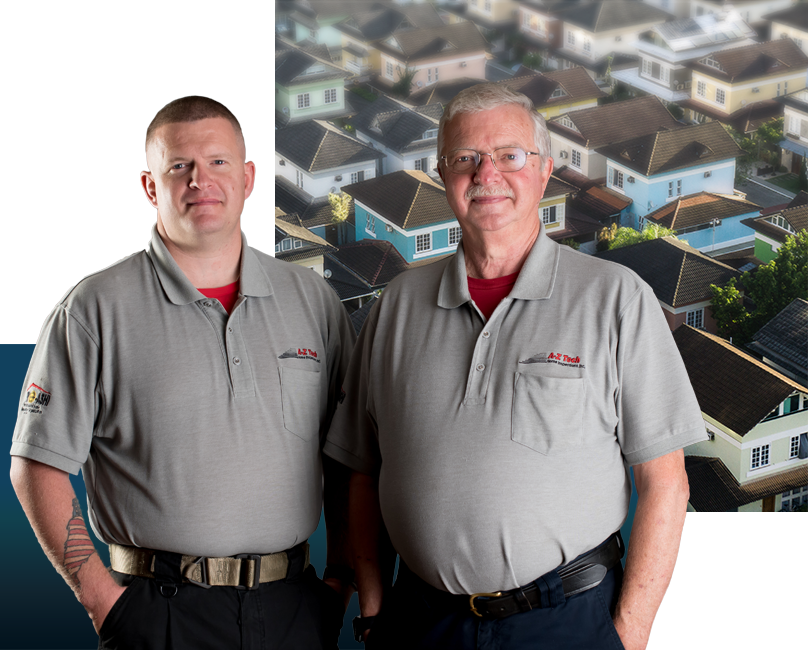 A
Full Service


Inspection Company

As a PA corporation, A-Z Tech has performed over 10,000 home inspections, and more than 2,200 infrared scans in our 30+ years of business. We service locations including Pittsburgh, Greensburg, Murrysville, Monroeville, Irwin, Jeannette, Latrobe, Ligonier and most of Southwestern Pennsylvania.
SINCE 1989
SERVING THE
REAL ESTATE & HOMEOWNER

COMMUNITIES

We dedicate 100% of our time and energy to delivering first-class service.
We provide
full home inspections

including roof, structure, electrical, plumbing, HVAC, foundation, mold, lot & grounds, and all aspects of the home.
Additional services include commercial inspections, septic system dye testing, well water flow tests, water quality testing, wood destroying insect inspection, radon testing, air quality testing, infrared thermographic scanning for leak detection and heat loss and many more.
Began in the Home Inspection Profession in 1989
Have attended various field related seminars every year since. In excess of 10,000 Home and commercial inspections performed.
Certified FEMA Disaster Inspector
Experience in disaster damage evaluation inspection and reporting for Hurricanes Katrina and Wilma. 350 conducted in 2 months.
Founding President of Tri-State AARST
(American Assoc. of Radon Scientists & Technologists) Serving Western PA, Eastern Ohio and West Virginia (Current past President, member in good standing)
President of PRO-ASHI 2008 - 2009
(Pittsburgh Regional Organization of the American Society of Home Inspectors) Lead the 55-member chapter in all aspects and issues that effect the home inspection profession.
Nationally Certified Member of ASHI
(American Society of Home Inspectors)
www.ashi.org
Certificate #203847
PRO-ASHI Seminar Committee
Lead the successful presentation of the annual Pittsburgh Home Inspector's seminar providing nationally recognized speakers and instructors to provide required continuing education for home inspectors across the country. 2003 through 2011.
Formerly Certified Individual for Radon Mitigation
Installed in excess of 1200 radon reduction systems in southwest PA.
PA Dept. of Agriculture Licensed Pest Control Operator
For wood destroying insects.
Seminar Speaker
On various topics related to Home and Building Inspection including Use of Infrared Thermography in home inspection.
Expert Witness and Consultant
Investigate, evaluate and advise attorneys, plaintiffs and defendants in matters related to building construction and damage, including contractors and inspectors. Testify as needed in order to resolve cases.
Claims Consultant
Have provided investigative services for homeowners, attorneys and insurance companies regarding inspector negligence, breach of contract and other matters.  Member, COA National Claims Consultant Network.
Committee Member - AARST Radon Mitigation Protocols
Tasked with producing a nationally recognized document to be used as a pattern and guideline for states and individuals to reduce radon in single family residences.
PA DEP Certified Individual for Radon Testing #1478
Since 1990. PA required 16 hours of continuing education every 2 years. Perform radon testing in homes, schools and commercial buildings.
Building Performance Institute - BPI
Building Analysis and Envelope Professional Certified to conduct and report on energy efficiency and building performance using accepted building science. www.bpi.org
Certified HomeSafeTM Advanced Thermographic and Acoustic Inspector
Moisture damage investigation using an infrared camera and moisture detection equipment.
Certified Level 1 Thermographer
For the use of infrared scanning camera equipment. Used in the detection of moisture, hot wires in the wall, air leaks, energy auditing building integrity etc. Over 1800 thermal scans performed.
Board Member of PHIC
The Pennsylvania Home Inspectors Coalition was formed to influence and improve the PA Home Inspection Act in the state legislature. Currently sponsoring an amendment to that act requiring Home Inspector Licensing.
Home Inspector's Mentor and Instructor for New Home Inspectors
Trained seven individuals in all aspects of the inspection profession, including Inspecting Building Systems, Business Operations, Marketing, Sales, Record Keeping and Inspection Report Writing.
Council-Certified Environmental Thermography Consultant
(CETC) investigates structural and environmental issues in the built environment using infrared thermography. For example, a CETC can identify mold and moisture issues during a commercial investigation or a home inspection that may be invisible to the naked eye. A CETC has verified knowledge of thermal and infrared physics as they apply to the building sciences. A CETC has verified knowledge of the selection, calibration and operation of thermal imaging equipment. Finally, a CETC knows how to apply the principles and equipment of infrared thermography to a building investigation.
Independent Certification by ACAC. American Council for Accredited Certification. www.ACAC.org Certificate #1012018
Let's Get Started
ONE CALL
DOES IT ALL
We guarantee our competent and professional home inspection or your money back!